Still trying to decide which cannabis conferences to go to this fall? You need to head to the NCIA and CCIA California Cannabis Business Conference in Anaheim, California! Here are a few reasons why you really have to get to Anaheim on September 21 and 22.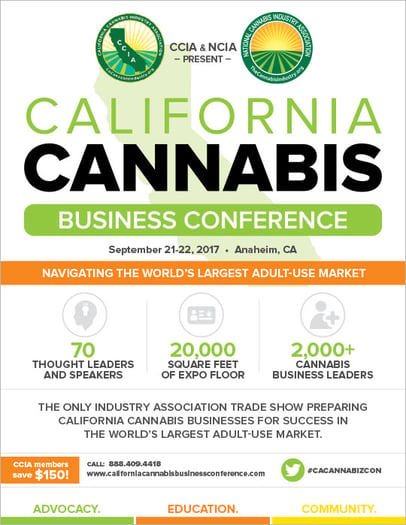 Learn and Prepare. A major focus of the California Cannabis Business Conference is the helping and preparing cannabis business for success in the industry. You will get to l

earn from experienced cannabis professionals and policymakers in six educational tracks that will guide you step-by-step to successfully operating and elevating a business in California's new Adult Use Market.

There are going to be numerous sessions and table discussions where you will get to learn about the latest trends and technologies in the industry.
Connect. This year the conference has 20,000+ sq feet of Expo floors and 2000+ cannabis industry leaders that you can connect to!

Can you imagine how many people you'll meet -- mentors, peers, contacts, customers, and partners -- in just two days! Get your business cards and smartphones ready.

Be inspired. The Conference brings together several leaders and pioneers in the industry. This year, the conference has 70 thought leaders and speakers

. The keynote speaker

Lori Ajax (Chief, Bureau of Cannabis Control) will be

discussing her outlook on the future of California's cannabis market, in addition to providing her insights on what business owners can expect as they prepare for success in 2018.

Share.

You will also have various opportunities to talk about your company and ideas through sponsorships and multiple networking receptions.
Grab a drink with us! Come speak with our Colton Griffin, our CEO, and learn about all the exciting technologies we are bringing to the cannabis industry. Schedule a meeting with him here!