The Cashless ATM Crackdown & Where to Go From Here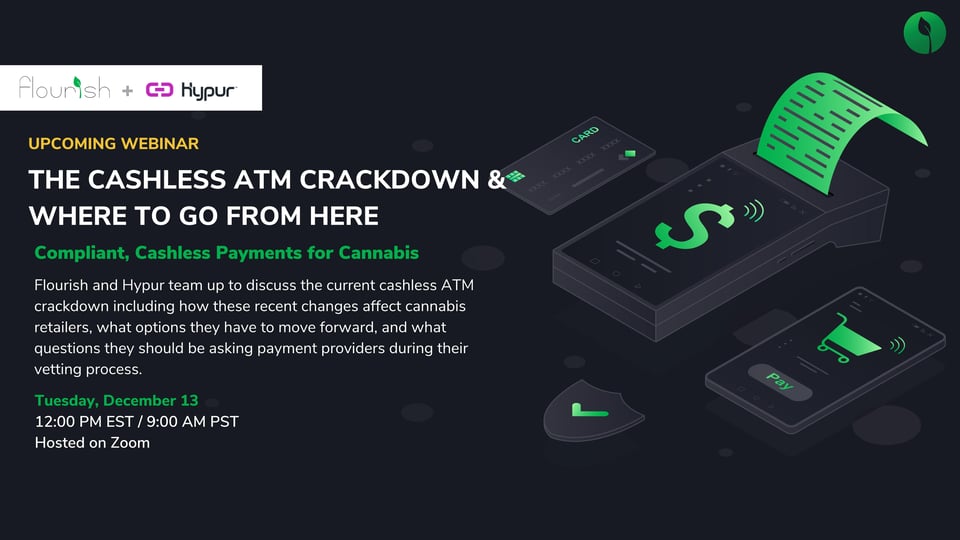 When Flourish does something, we like to get the important things right. From being one of the first software companies in the Cannabis Industry to pass SOC 2 Type II Security Reports since 2020, industry-leading Metrc Integration and Sync, and recently being named "Best for ERP Scaling and API Integrations" by Benzinga. When it came to payments, especially in the complex and Federally Illegal space we operate in, great care was taken to choose the right providers.
My path to Flourish came in the Fall of 2021 after 10 years of running a VAR, working with Retail and Payment Providers like Lightspeed, Global Payments, and Worldpay. Integrated payments were a big part of our business and an important part of why I came to Flourish as we looked to expand payments for our Retail POS beyond ACH provider of CanPay (later AeroPay) and upstream for Cultivators, Manufacturers, and Distributors too (later adding Lendica). We looked to trusted industry contacts, customers, and partners for the best solutions serving the Cannabis Industry. Our customers using Flourish tend to be more sophisticated operators entering a growth and maturity phase of their operations requiring payment providers that pass the compliance and regulatory tests of due diligence, mergers, acquisitions, audits, and potentially SPAC offerings.

Right out of the gate, a large MSO customer of ours noted they were NOT interested in Cashless ATM's also known as Point-of-Banking solutions that a number of POS vendors and independent vendors were offering. The least of the matter was the challenging accounting with rounding up and cash back, but the Visa Memo issued in December of 2021 was very explicit that miscoded transactions and the fund from Federally illegal businesses violated their network rules. A few weeks following, Forbes published an article: "What Visa's Warning About 'Cashless ATMs' Means For The Cannabis Industry", that outlined the most acceptable approaches to cashless Cannabis payments. Despite that and with compliant options available, leading POS providers still actively sold Cashless ATM Solutions until the shutdown in December 2022. As reported by BloombergLaw, the leading POS Provider in the industry, Dutchie issued a statement: "Over the weekend it became clear, industrywide, that cashless ATM may not be sustainable for the industry and does not live up to our high standards for service". A year too late and trust is broken if you ask us.
While we look at other potential solutions that incorporate gift cards or crypto as intermediaries; even with KYC and funds tracking in place, the idea of inviting further regulated (and unregulated) payments on top of an already complex payment structure didn't seem like the right path. This is complex enough; regulators like simplicity and transparency.
Flourish teamed up with Hypur Inc. to discuss the recent crackdown on cashless ATMs. As discussed in the below video, Todd Fuller, CRO of Hypur addresses such areas as compliant, cashless alternatives. We get specific on their entry and approach to the industry, and why Dispensaries using Hypur are still processing today.
Founder and Management team have a long history in banking and compliance
Hypur operating in Cannabis for 8 years: Starting in compliance, then moved to payments initially with ACH, and now debit.
Candid about how the current Federal regulatory stance on funds from Federally illegal sources, including Cannabis.
Impact of the Cole Memo, and its rescission in January 2018 on banking for Cannabis.
Banking Supply Chain: Agreements with Sponsor Banks, Agreements with Debit Network Providers, and Sophisticated technology to manage it all compliantly.
Watch the full webinar below.