Flourish ESG
Using our voice and aligning our corporate strategy to be a force for good in the world.
What does "ESG" mean? Environmental, Social, and Governance. These are three pillars to measure corporate practices to evaluate how companies are affecting the world. Since the 1930s, our government has criminalized and demonized cannabis, but public opinion has awakened to the positive power of this plant. As a key player in the cannabis and hemp (low THC cannabis) industry, Flourish is committed to making a positive Social Impact.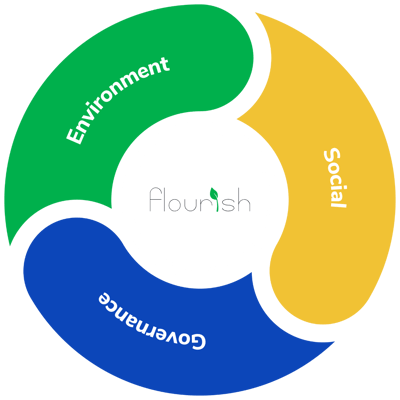 Environmental Sustainability for Cannabis
Agriculture is fundamental to the cannabis industry; after all, the industry is built on a plant. We have an opportunity to set the standard for sustainable agriculture with cannabis and hemp. Due to strict testing requirements to bring product to market, especially for concentrate products and derivatives, cannabis farmers are adopting organic farming standards to minimize risks of failed tests. Energy and water usage are also important areas to focus on within cultivation practices.
Outside of agriculture, cannabis operators must confront the environmental impact of their consumer product goods. Regulatory mandates for tagging, packaging, and labeling are creating immense amounts of waste across the industry. We must measure and confront this.
Low-THC cannabis, legalized under the 2018 Farm Bill as Hemp, opens the path to using hemp for industrial uses. Hemp is carbon net negative, meaning it puts more carbon into the ground through it's lifecycle than it takes to cultivate it. We can use hemp to create thousands of products on the market and begin to replace petroleum based plastics and fiber, pesticide and resource intensive cotton, and timber with a more sustainable alternative.
Social Impact for Cannabis
The cannabis industry has a duty to reverse decades of oppression and negative social impact due to prohibition. Legalization creates a path for economic development and sensible policy. Various social equity programs exist to address some of these concerns, but most are fledgling. This industry is creating significant, positive economic development resulting in thousands of new jobs across the world.
As a product, Cannabis should be a force for good. It is a tool to combat the opioid crisis, support mental wellness, and enable a better quality of life.
Good Corporate Governance for Cannabis
Good corporate governance is critical to establishing trust in our industry and in our products. Cannabis is a highly regulated, highly valued crop. We must prevent bribery and fraud to keep a level playing field for all operators. Investors need confidence in the industry to keep capital markets open and fund further development.
Cannabis ESG Alignment with UN Sustainable Development Goals
In 2015 the United Nations adopted global goals known as the Sustainable Development Goals (SDGs). These are integrated and support each other to create social balance, economic and environmental sustainability. The cannabis industry aligns with many of these SDGs, and as we rapidly build this industry around the world, further policy should map to them.
Flourish's ESG Mission Within our Software
As we design and delivery Flourish's software, we are considering how it fits into an overall ESG mission. We are continuing to invest in functionality to support this mission. We also bring it into our delivery of the software through training and education.
Environmental Sustainability
Clients who cultivate cannabis organically can support organic certification for cannabis and hemp by documenting inputs on the crop through the cultivation lifecycle.

Clients have management and visibility for finished goods, component inventory, and raw materials to prevent waste and spoilage through the supply chain.

We integrate with route planning solutions to efficiently plan transportation and reduce emissions in transport.

We are committed to reducing paper usage throughout the supply chain where we are able though good design on labeling and documentation.
Social Impact
We have a Social Equity program to grant qualified licensees an opportunity to use our software at essentially no cost.

We focus our implementation on training to build fundamental skills and help our clients progress in their careers.

Clients can use our software to track spend with diverse suppliers to support Supplier Diversity programs.

Clients use our software to manage Certificates of Analysis (COAs or lab test results), which are an important aspect of bringing trust to products.

Clients can issue a recall in a matter of clicks, which significantly helps mitigate social risks if tainted product enters the market. We are setting the standard for traceability within the supply chain and for agriculture.
Governance
Clients use Flourish's software to comply with state mandated track and trace regulations. This is critical to maintaining a license in the industry.

Clients use Flourish's software to track costs and document activities that help alleviate the 280e tax burdens. The IRS requires documentation to support the Cost of Goods Sold deductions, and Flourish makes this native to using the software.

Clients use Flourish's reporting capabilities to support financials and communicate company performance.
ESG Within Flourish
Flourish is committed to supporting environmental, social, and governance best practices within our company. Our efforts are a continuous work in progress (it's one of our core values after all!), and we are working to lead by example.
Environmental Sustainability within Flourish
We are a remote first workplace, eliminating the dreaded daily commute and the negative environmental impacts it creates

We host our software on Amazon Web Services (AWS). AWS is working to transition to 100% renewable energy to mitigate the carbon impact of our underlying infrastructure
Social Impact within Flourish
While most companies offer benefits, our employees are enrolled on Day 1, not 30-90 days after hiring. Our benefits include paid maternity and paternity leave, and are very comprehensive. First and foremost we are committed to a positive social impact on the employees and families that work at Flourish.

We ensure every employee is paid above a living wage and that executive compensation does not exceed the lowest paid full-time employee by more than a 3:1 ratio (JP Morgan suggests a 70:1 ratio)
Good Governance within Flourish
We use Carta to track our shareholder's equity and governance for our Board of Directors. This provides transparancy to our investors and keeps us compliant with corporate governance and regulations.

We've earned our SOC 2 Type II report, validated with a third party auditor, to demonstrate trust in our systems and data.

We are transparent with our legal policies and procedures and retain counsel to ensure we are following best practices.
ESG in the Cannabis and Hemp Community
Flourish is not alone in this mission to support good environmental, social, and governance practices within the cannabis industry.
Environmental
We are proudly lobbying elected officials to reduce packaging requirements and eliminate METRC tags in support of environmental best practices.
Social
We are working to highlight organizations doing good work in the community. We are continuously using our voice to support legalization efforts across the country.
Governance
We are members of industry groups such as the National Cannabis Industry Association and use our voice within the trade lobby to support sensible governance and policy for the industry.
It Doesn't Stop Here
Have an idea? Question? Want to talk? Let us know.
We continue to develop and track against these ESG initiatives, and we are committed to leading on this topic.