Information Technology Services Tailored to Improving Your Business.
Based in Los Angeles, CA, Alcott Enterprises offers 50+ years of combined industry experience developing strategic alignment of business and technology, enabling digital transformations, and managing technical infrastructures working with startups to Fortune 500 companies. Their experts have been providing information technology consulting services for companies of all sizes across various industries and building next-generation company infrastructures that leverage the Cloud, A.I., and Machine Learning.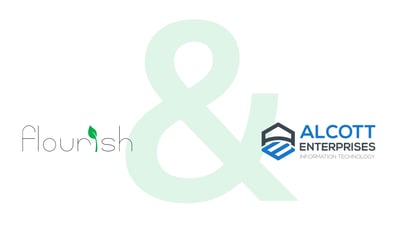 Flourish + Alcott Enterprises
As the cannabis sector experiences significant growth, operators face the challenge of maintaining capital efficiency, particularly in established markets where advanced information technology systems are necessary to stay competitive. Together with Alcott Enterprises, we can provide our current and future customers:

Industry-Enhanced Technical Experience
Due to the varying and ever-changing regulations, such as Track and Trace Compliance, cannabis is niche. The many years of experience we've earned in general and Cannabis IT pay dividends for our customers.



Implementation Services
From years of industry experience, Alcott has developed internal expertise and external partnerships to serve this industry at the highest levels.




Integration Capabilities
There is not an all-in-one Cannabis solution. Integrations and customer development allow this industry to run. Flourish and Alcott can fit the puzzle pieces together so you can see the bigger picture.

Managed Infrastructure Support
From networks to desktops, cameras to disaster recovery, Alcott can manage the full spectrum of your infrastructure. One call. One Company.





Technical Advice
Alcott's three core beliefs of Honesty, Integrity, and Trust guide all they do and are aligned with our core values at Flourish. At the end of the day, they are trusted advocates to help you choose the right technology to deliver what you want. They take that promise to heart.


Let's Flourish Together.
Contact Our Team to Get Started.