Make Better Decisions, Faster.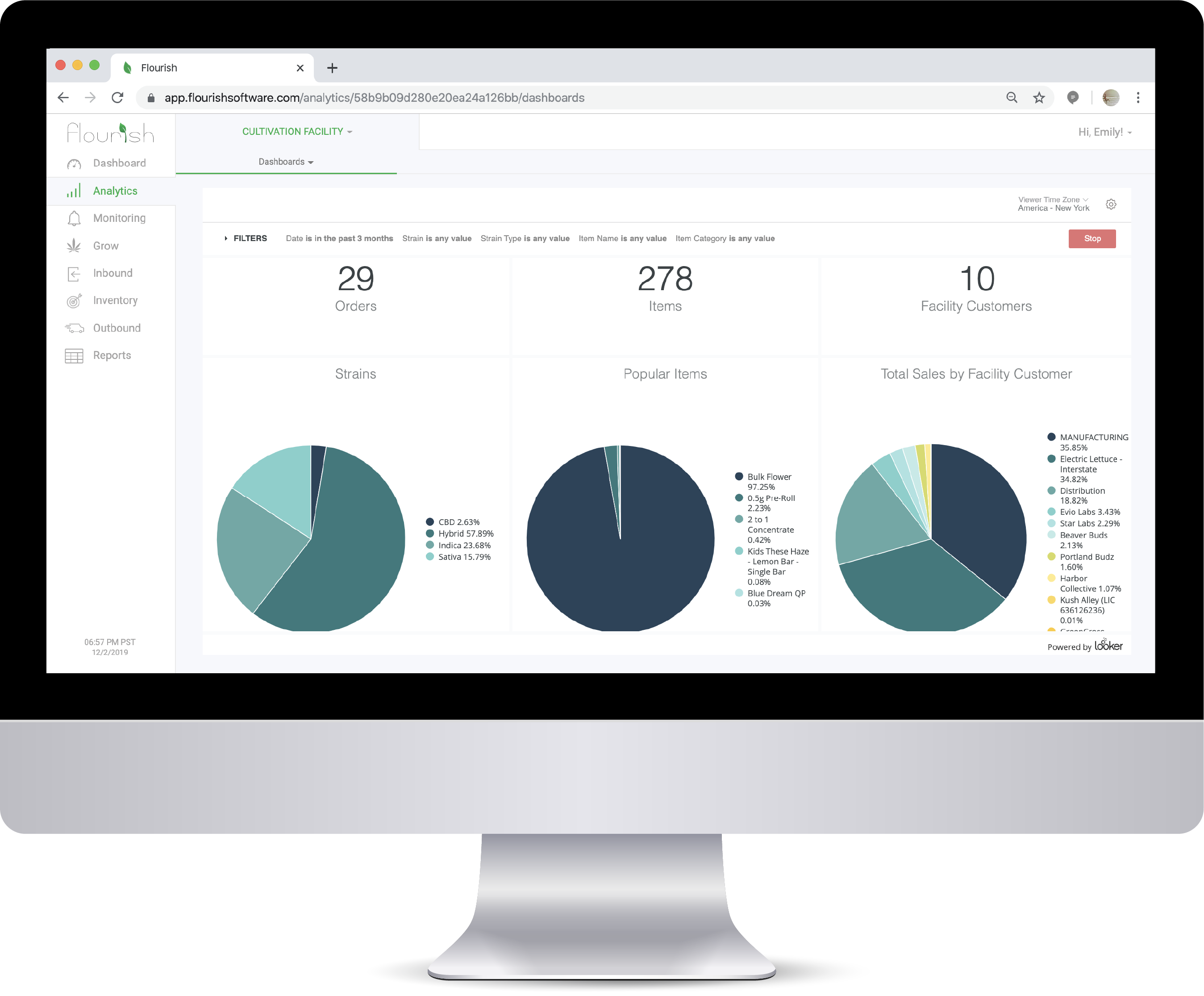 Actionable Insights for Data-Driven Decisions
Our Dashboards and Reports give you data metrics and insights into your operations so you can respond quickly to an ever changing business environment.
From cultivation or manufacturing specific metrics, to sales, costs and customer reports, Flourish Dashboards and Reports give you the power to adapt business models and processes to reduce costs, sharpen forecasts, and innovate more.
Sales Analytics
Grow revenue, control costs, and meet your sales goals

Track sales by rep, batch, item, and even by strain

Measure profitability after sales to maintain and improve margins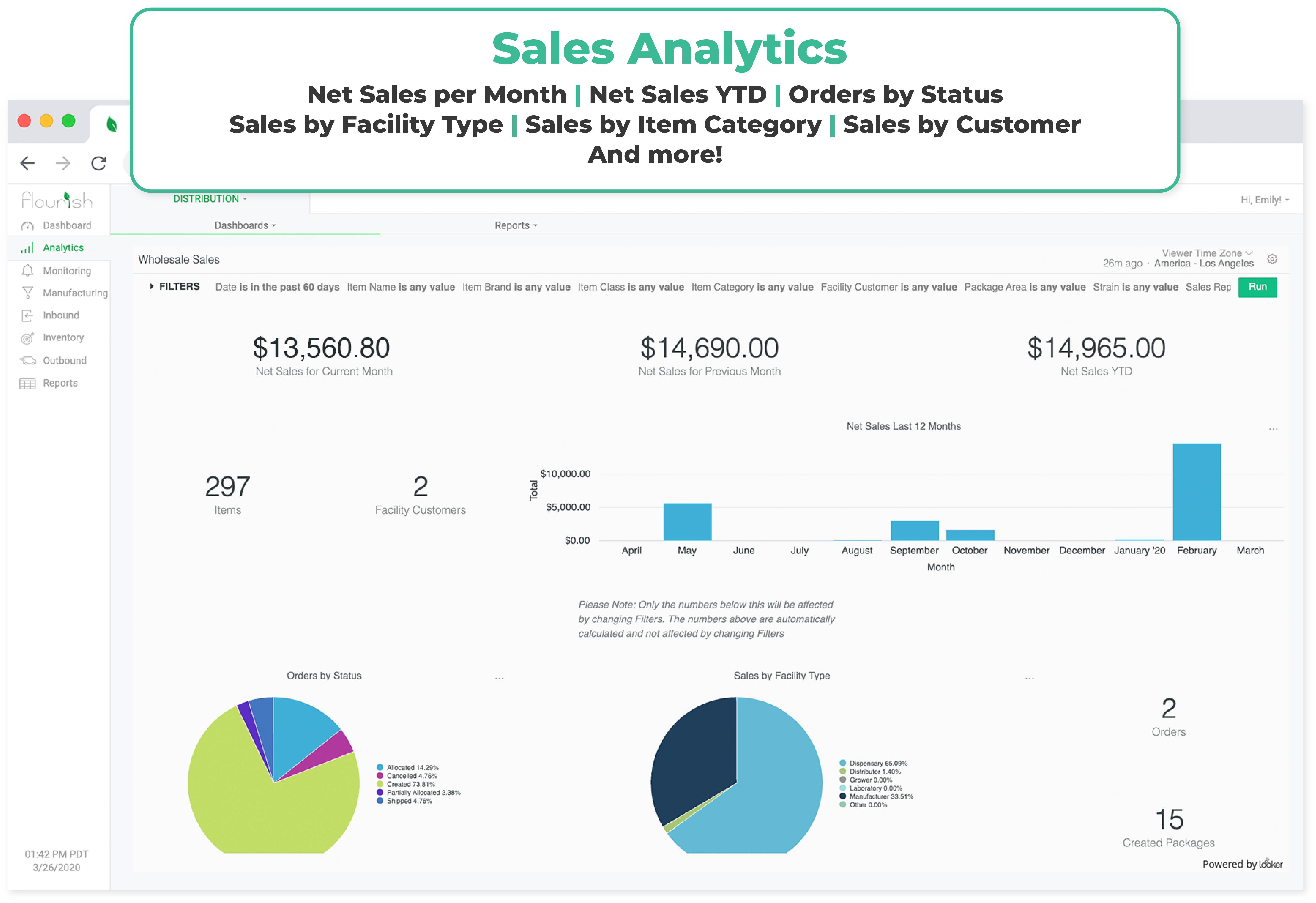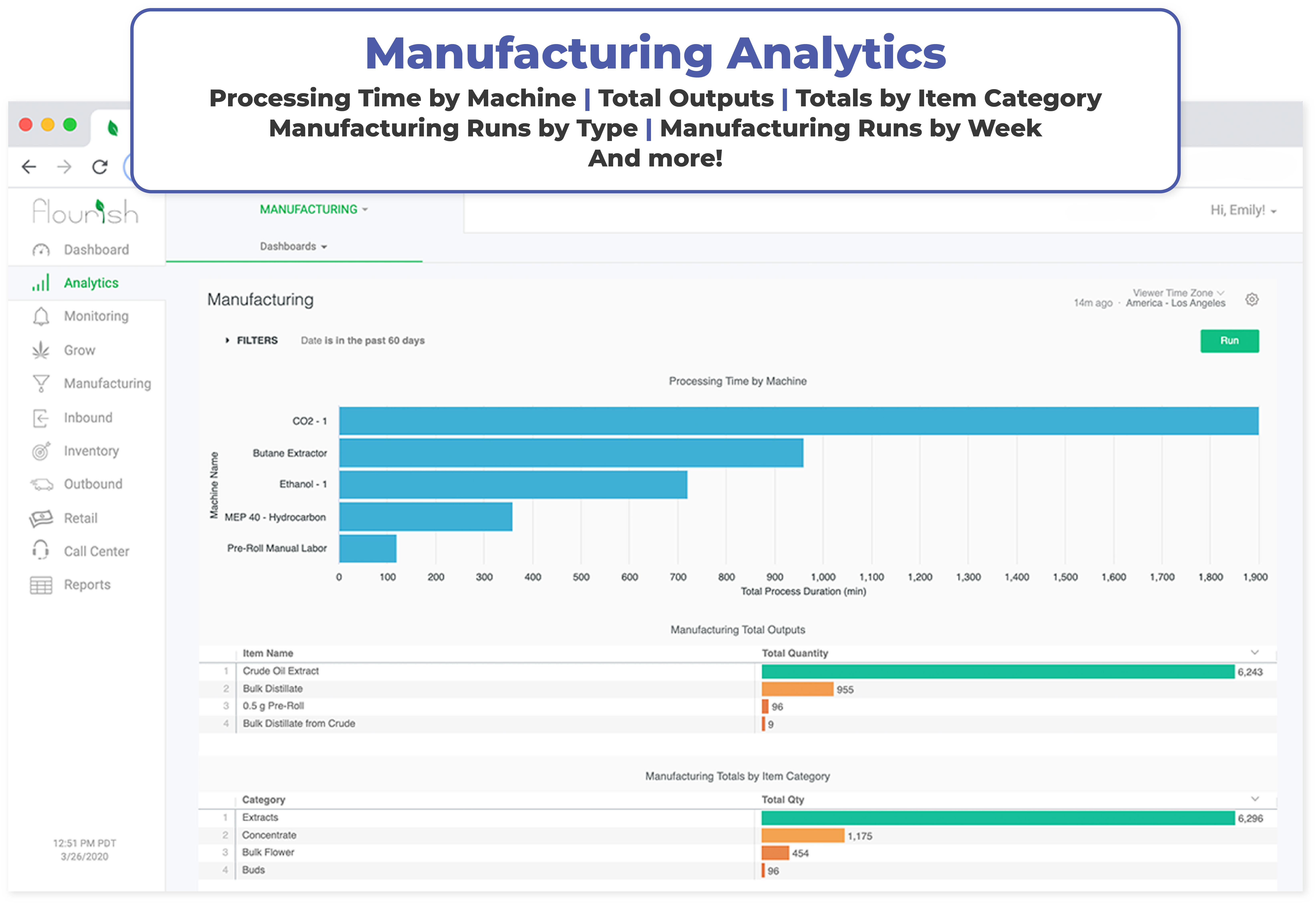 Extraction and Manufacturing Analytics
Understand yields, cost of goods sold, and inventory levels

Track components, non-cannabis goods, and costs at each step of the process using extraction runs and bills of materials (recipes)

Easy to understand reports and dashboards tailored for manufacturers
Cultivation Analytics
Rich cultivation reporting and analytics for cannabis and hemp.

Track notes, cultivation inputs, and plant movement within Flourish. Our rich cost tracking allows you to maximize 280e tax deductions.

Leverage our robust cultivation dashboards and reports to understand yields, harvest forecasts, and more.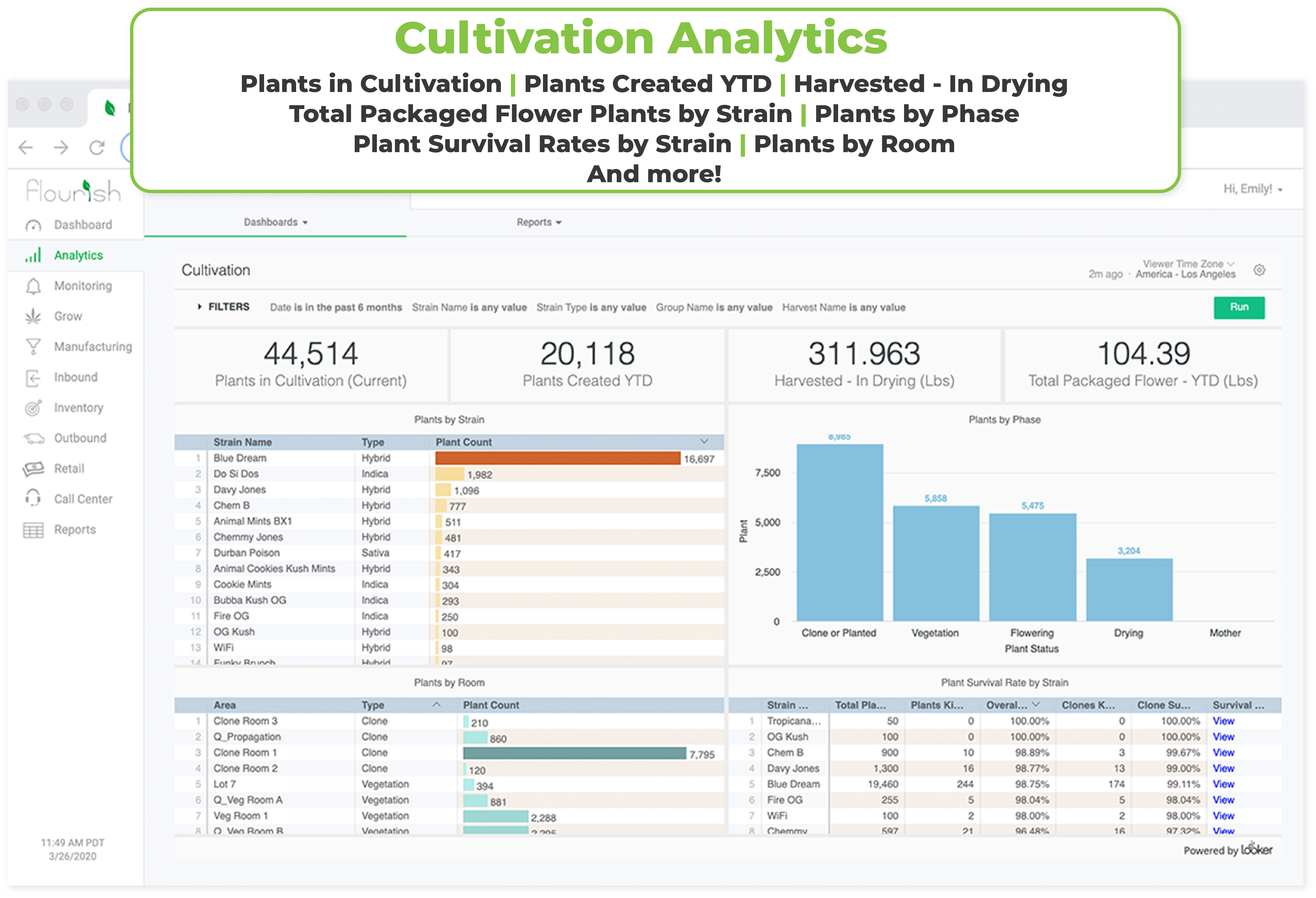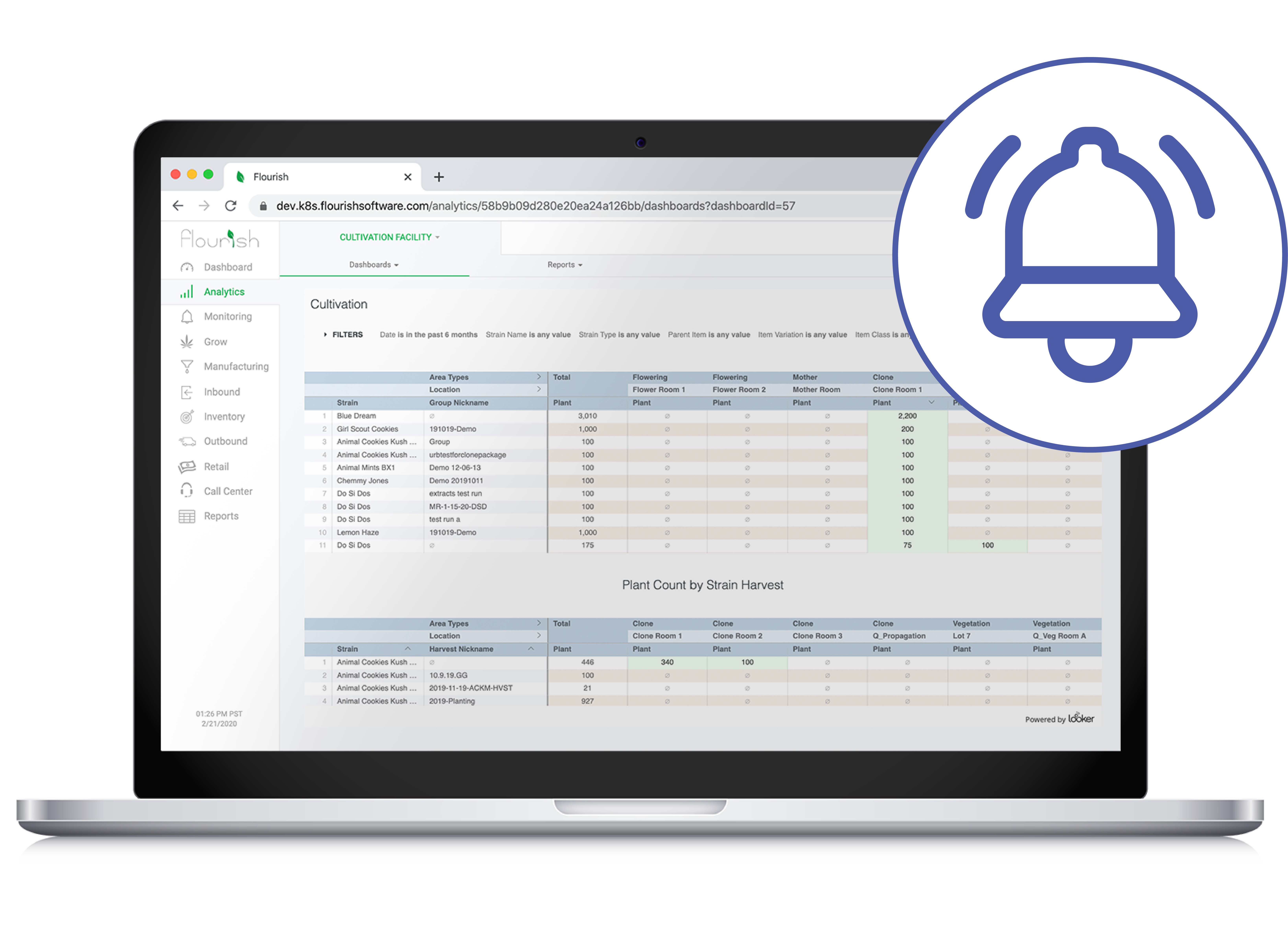 Scheduled Reports
Get the data you need in your inbox when you start your day. Cancelled orders, low stock, unusual adjustment, and so much more

Detailed and aggregated reports can be exported and shared with team members on a recurring basis

Users can easily export data to Excel for offline analysis
The Analytics You Need to Make Smart Decisions

Compliance Reporting
Track Packages & Package Adjustments
Monitor Incoming & Outgoing Transfers
Set alerts for Expiring Lab Results
Track Customer Licenses & Expirations

License Specific Dashboards
Pre-built reports tailored to your license
Incorporates industry standard KPIs
Leverage our expertise to best use data to drive your business forward

Sales, Inventory, & Distribution
Sell more by focusing on what's important
Get a handle on your inventory
Drive distribution operations with real-time dashboards