Cannabis businesses are facing a growing challenge: Compliance. So far, 9 U.S. states have legalized recreational marijuana and 29 U.S. states have legalized medical marijuana. As the cannabis industry continues to grow and mature, however, states are ratcheting up their oversight and expectations, and there is an increasing need for consistency in regard to the quality of the product and the operations that surround it.
Can your supply chain software run your business while also keeping you compliant?
Operators have to maintain compliance with state regulations while also thinking ahead to what will happen when the federal government removes cannabis as a Schedule 1 drug, paving the way for the FDA and other federal organizations to become involved. Naturally, we have to be prepared by asking ourselves some important questions, such as:
How do I prevent fines when being audited?

What can I be doing to avoid a cease and desist letter?

How do I quickly and easily provide the information requested during an audit to both protect my business and allow me to get back to operations as soon as possible?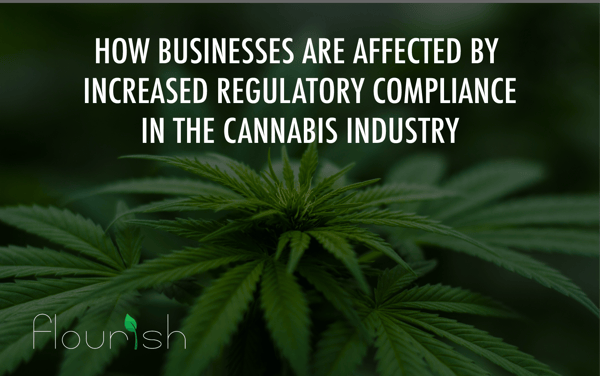 For existing operations, the need for compliance has already come on hot and heavy. Many stakeholders involved in the cannabis business haven't had to make operating in a regulated ecosystem a priority until now. One of the biggest challenges for existing businesses is understanding what it takes to get licensed and survive the increasingly stringent regulatory system. But don't be mistaken – the record-keeping and reporting that goes into compliance doesn't end once a business has obtained its license. Regulatory compliance remains a vital part of all day-to-day operations so that a business can maintain its license.
The Impact of Compliance on Business Operations
Whether a business is licensed to cultivate, manufacture, or distribute the product, the effort required to manage compliance is tedious, time-consuming, and consequently frustrating – especially amidst state regulation that is constantly evolving. The cannabis landscape is expanding while simultaneously fine-tuning, specifically in regard to reform and regulation. Many small businesses are not prepared with a compliance plan, and this leaves them at risk of facing heavy fines, losing their licenses, going out of business, or having to half operations with a cease and desist letter from the state. Simply put, stakeholders need to monitor compliance in every aspect of their operation to remain viable and avoid disruptions.
Furthermore, as new players continue to enter the market, many companies currently in business won't have the resources to make the appropriate investments to answer both compliance requirements and expansion pressure (i.e. real estate, building construction, employees, etc.) – consequently spreading out the competition in the industry. In order to stay afloat, companies need to prioritize compliance – even if these regulatory requirements make running their businesses more difficult.
What Operators Need from Technology to Stay in Business in a Legitimizing Industry
We don't know if an increased focus on regulations, which makes it harder for businesses to focus more on staying competitive, is the best way to go as the industry continues to expand its footing in the United States. What we do know is that the cannabis industry has to legitimize itself by proving to both the federal government and general public that it is an industry that is capable of creating revenue while also adhering to regulations that promise consistent quality. This will allow the cannabis business to turn into an industry that is not only legally and financially sustainable, but also trusted and respected at a global scale.

In order for businesses to run their operations efficiently while also adhering to regulation, they'll need technology. The right technology solution will provide the adaptability and scalability needed to accommodate a new and evolving industry.

Here are just a few features and functions you should expect from your seed to sale tracking system in order for your operation to maintain compliance:

Integrate with state mandated reporting systems
Track and report plant movement across phases and locations
Account for waste, destruction, and moisture loss
Assign package tags during conversion, transformation, or quantity changes
Enable real-time product recalls or run timeline and ancestry reports for audits
Next week, we'll look into the accumulating threats facing existing businesses in the United States who are failing to comply.
Learn more about how Flourish helps your business stay compliant.