RELEASE: Flourish Software Releases Mobile App
ATLANTA – November 12, 2019 – Flourish Software announced today that it has launched its new Android mobile app which is now available to download in the Google Play store. Flourish customers will be able to utilize this new app right from their phones and start recording actions and functions normally performed on PCs and laptops.
"We are very excited about this mobile app launch," says Colton Griffin, CEO of Flourish Software. "We've put a premium on the usability and user experience of software in the cannabis industry to help operators save time and be more efficient with how they collect and capture data. The mobile app will allow end users to quickly scan tags, move plants, enter data, track packages and create orders from their own mobile phone."
Features and functionality in the app will depend on the user's license type within the cannabis/hemp/CBD supply chain. Cultivators can use the app to scan plant tags and mark them as killed or moved to different phase and/or location. Cultivators can also record wet weights during harvest.
All users and license types can use the app for inventory management and outbound sales orders. The most efficient feature is being able to scan a package tag to sales order and simultaneously allocate the package as well.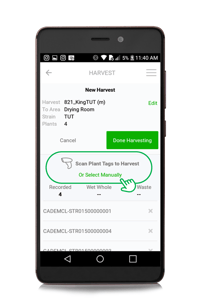 The Flourish Android App is now available to download in the Google Play store. The iOS version of the Flourish mobile app will be available during the first quarter of 2020.
About Flourish Software
Flourish Software is a leading technology provider of enterprise supply chain and inventory management software built for the cannabis, CBD, and hemp industries.  Flourish currently serves cultivators, manufacturers, processors, wholesalers, distributors and retailers. Flourish is integrated with state compliance systems, so cannabis operators remain compliant while they capture critical business data, operate more efficiently, track product from seed to sale, and leverage advanced analytics. Flourish Software was founded in 2017 and is headquartered in Atlanta, Georgia. For more information visit www.flourishsoftware.com. For other updates, visit Flourish on Instagram, Facebook, LinkedIn and Twitter.