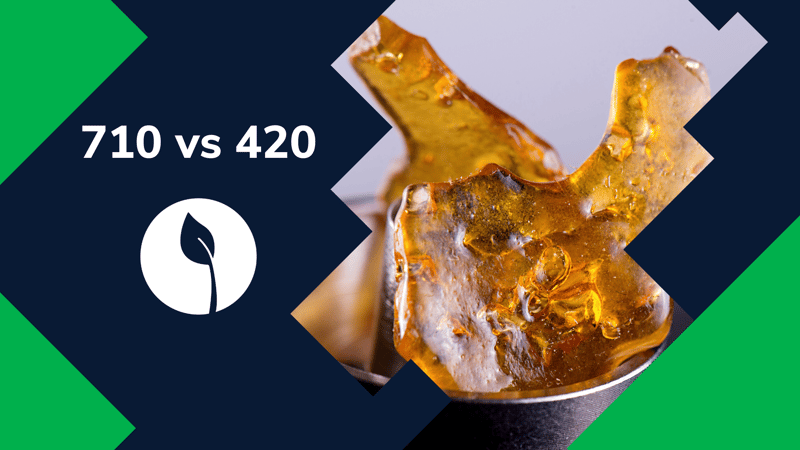 We didn't get much of a pause between the 4th of July and the second biggest holiday in cannabis behind 4/20: 710.
710 is known as National Dabbing Day or National Oil Day in the cannabis world and while it's not yet the size of our beloved 4/20, many believe it's only a matter of time. Cannabis lifestyle brands hosting the 710 theme are beginning to emerge on the scene, whether it's a large or small part of their brand identity, showing testament to the day's rising popularity in the space.
710 backward and upside down reads "oil", hence the attribution to dabs. Unlike 4/20, which focuses on cannabis as a whole, 710 focuses on just one product: highly potent cannabis concentrates. This means 710 can also be smoke-free, as concentrates tend to produce less smoke than combustion methods like lighting a joint or a bowl, especially when vaporized.
This year 710 saw no shortage of sales and promos celebrating the occasion. The holiday fell on a Saturday, which, like other retail environments, is naturally a high sales day for cannabis dispensaries. Some brands offered discounts on concentrated cannabis products, while others hosted indoor concentrate consumption events. 4/20 doesn't see as many indoor consumption events because of the combustion associated with smoking, so that's one way 710 may gain a leg up on 4/20.
Will 710 become as popular as 4/20?
National Dabbing Day is not as big as 4/20, and it hasn't been celebrated nearly as long. 4/20 has been around for a few decades at this point, with a pretty exciting backstory. To summarize, a group of California teenagers would meet after high school every day at 4:20 to smoke cannabis and search for a cannabis plant planted at Point Reyes they were tipped off about.
They never found the plant. But, they did create a cultural and ultimately, consumer-focused, movement in the legal cannabis market. We know 710 spelled backward and positioned upside down spells oil, but beyond that, we don't know much else. Leafly says celebrations for National Dabbing Day have been taking place since 2012, so it's gaining momentum, but 710 still has about 15-20 years before it catches up with 4/20 in terms of time.
We wouldn't be surprised if the highly-concentrated holiday took off much quicker than that, however, with how quickly the cannabis industry moves. But, it's important to keep in mind what 710 is up against, both in terms of sales and consumer preference.
4/20 is tough competition
As of now, 4/20 is the largest sales day in cannabis. Cannabis data analytics company, Headset, reported 4/20 to be the largest cannabis sales day this year in both the U.S. and Canada, representing an 84.5% growth in average daily sales over the previous four Tuesdays in the U.S. and 59.9% in Canada. Recreational sales in California, Colorado, Nevada, Oregon, and Washington alone broke $42.6 million.
In other words, 4/20 is huge for cannabis. That's because 4/20 is focused on all forms of cannabis consumption, not just dabs. Even some non-cannabis brands, like dog company BarkBox, have participated in 4/20.
710, on the other hand, is focused on concentrates and that doesn't appeal to casual cannabis consumers. It might not even appeal to experienced cannabis consumers, who prefer flower or other methods of consumption. Cannabis concentrates are just that, highly concentrated, sometimes testing out at 80% or more THC. 710 focuses on the heavy-hitting, highly-concentrated dabs, shatter, wax, and other extracts and concentrates, and you'll quickly find that isn't every consumer's cup of tea.
Concentrate sales are on the rise
Cannabis concentrate sales went up 40% from 2019 to 2020, so the number of consumers seeking a heavy-hitting experience are increasing. 2020 was a (all circumstances considered) rockstar year for the cannabis industry anyway. The pandemic encouraged people to find a way to naturally decrease stress and anxiety, leading to record cannabis sales during some of the most difficult months of 2020.
Looking at Arizona, California, Colorado, Michigan, Nevada, and Oregon specifically, total concentrate sales went from $567 million in 2019 to $797 million in 2020, Headset found. The data does not account for vape pens.
Taking this data into consideration, 710 continuing to take the cannabis industry by storm doesn't seem unlikely. Whether or not it will reach the notoriety 4/20 has, only time will tell. People like the story behind 4/20.
It's more than just a holiday, there's a real culture associated with it as we look at how far we've come since legalizing cannabis. Now, the legal cannabis market utilizes that 4:20 timestamp to celebrate how far we've come and create a sense of community.
710 seems to be taking a more niche approach, appealing to concentrate consumers, so it will be interesting to watch the 710 landscape unfold as concentrate sales continue to rise.
Flourish Software has robust tools for manufacturers. Click here to learn more.