Eureka Vapor is a family owned and operated, award- winning manufacturing and distribution company with operations in California and Colorado. They've recently dealt with the dilemmas associated with selecting a cannabis technology partner, which is why in late 2019, they contacted Flourish.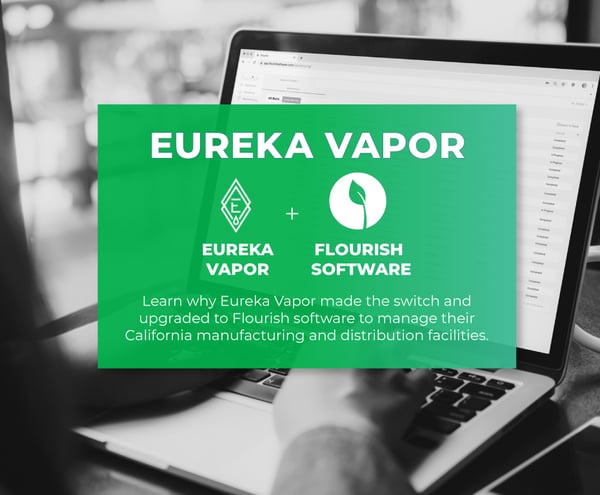 After a successful implementation and now having used Flourish for the last four months, Shannon Curtin, Director of Distribution at Eureka Vapor summarizes her choice to migrate the company's data based on these three factors:

The Software and Flourish Platform
SC: "We have had a great experience onboarding the Flourish Software platform for our manufacturing and distribution licenses. The project plan and implementation were extremely well organized and smooth. The Flourish user experience makes inputting data fast and easy."
Our easy-to-use interface is built specifically for the cannabis and hemp industry supply chains and our navigation between licenses is swift and intuitive. Our implementation team helped migrate all of Eureka Vapor's critical data points such as package IDs, Metrc transfers and inventory to their new Flourish environment.

The Flourish and Metrc Integration
SC: "Flourish really helped us transition on to Metrc by working closely with our team providing consultative solutions such as standardizing our data naming schema to suggesting revised workflows. We capture far more data than what we would normally be required through Metrc, which is great for future insights and analytics."
Our software is built to minimize users' reliance on the Metrc interface. We take time with every new client to make sure their transition is successful and understand the importance of verifying data transfers to and from Metrc. We helped Eureka Vapor establish reporting methods in Flourish that translated their necessary data to Metrc. During this process, we also helped lay the foundations for their growing database of business insights and analytics.

The People & Service
SC: "The post go-live support has been fantastic and the entire project from contract signing to going live was seamless."
After implementation, the Flourish team continues to provide unmatched support and documentation that enhances the user experience. We provide all users with a library of webinars, best practices and help documentation in addition to a personal support rep.
Whether you're an independent cultivator or a multi-license operator reporting to Metrc such as Eureka Vapor, Flourish provides resources and hands-on support that will help you enhance your operations from start to finish. Click here to book your free demo today and discover how we can help your business Flourish.