Three Key Benefits of the Lendica Funding Toolkit
Lendica, a small business funding platform, was designed to help operators, entrepreneurs, and visionaries smartly scale their company. With today's market volatility and rising rates, that can seem like an overwhelming proposition. Fortunately, Lendica's Funding Toolkit is equipped with funding products built to weather such unpredictable market conditions.
Here are a few of the benefits of Lendica's Funding Toolkit:
1. Functional. Lendica offers Flourish users with funding products that span three critical use cases:
PayLater - an accounts payable or inventory financing product, helps small businesses delay their vendor payments up to 10 weeks.

FundNow - an accounts receivable solution, is designed to speed up collection from customers.

DrawDown - a working capital offering, is built to fund the gaps in any growing business.
Borrowing for specific use cases, compared to taking one large loan all at once, allows business owners the ability to keep their financing costs manageable while they can scale more effectively.
2. Available. In any market cycle, having a reliable funding source is critical to support growth. Our customers should not fear missing out on growth because they are unable to come up with cash to fund upcoming purchases. Lendica's funding options, which are accessible directly within Flourish's user dashboard, mean our customers don't have to worry about declining a massive order due to cash flow constraints.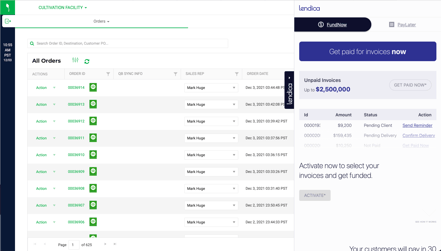 Even better, Lendica's lines of credit do not come with a non-use fee. They are active for 90 days whether you use it or not.
3. Affordable. Lendica is a data-driven lender. This means Lendica's underwriting process is fast and prices are competitive. When a small business activates a product on the iBranch, Lendica quickly synthesizes the customer-provided data and, in many cases, quickly turns around an offer.
The iBranch is a simple add-in that allows our users to access these simple financing tools directly from their Flourish dashboard. With just a few clicks, they can draw against $2,500,000 in A/P or A/R financing.
The more business information a customer securely shares with Lendica, typically, the lower the funding rates and the higher the funding amounts.
The Lendica Funding Toolkit has been a great resource for many Flourish customers as they navigate these unpredictable times.
If you're interested in learning how Flourish and Lendica can help effectively scale your business, contact us today.