Marijuana sales in North America grew by an exceptional 30% in 2016 to $6.7 billion as the market expanded to more states in the U.S. and Canada, according to a new report by Arcview Market Research. Another report by New Frontier states that marijuana sales could reach up to $24.5 billion in 2025. To put this in perspective, this industry growth is larger and faster than even the dot-com era when GDP grew at 22%. But are cultivation operations prepared to handle this unprecedented boom in demand for cannabis?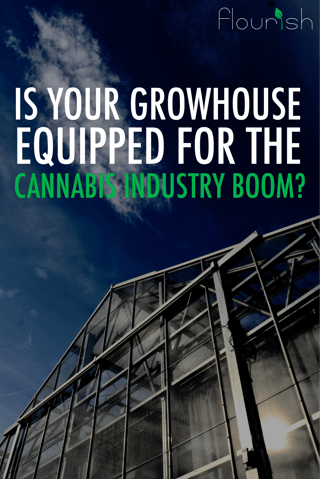 It's no surprise that the technology revolving around the cannabis industry is on the rise, riding the wave of cannabis growth around the world. Cultivators and distributors require the help of these tools because the industry is packed with complicated grow processes, unique factors, including varying regulations and compliance measures, disparate markets and lacking longitudinal data. Industry leaders are realizing the value of new technology and automation to manage and scale operations and are investing in energy efficient, high tech greenhouses to tackle these challenges from the beginning.
However, the majority of cultivation operations still rely on manual tools to manage their operations, which puts them at a risk of losing business to operations that are able to produce and manage their product more efficiently. This is because the common cultivators resist the idea of switching to newer tech because of higher upfront costs and inconvenience. What they don't realize is that soon they will need strong support systems to handle increasing demands, decreasing prices, and compliance measures. Another thing they don't realize is that with developments in infrastructure technology, cloud services, and SaaS, most of these solutions can be configured for smaller farms, both in terms of complexity and price. If you are a cultivator looking to improve your operations, here are a few tools and systems that can help you:
Automation

: As cultivation farms increase in size, greenhouse automation is becoming paramount.

Various greenhouse automation systems are available to monitor the entire building, from watering schedules to humidity levels to building security. That doesn't mean you have to drop thousands of dollars to automate your entire growhouse to stay competitive in the market. The key is to observe and analyze your biggest pain points: what's taking the most time, where are you losing the most money etc. and then look for solutions that can automate those processes

.
Hybrid Greenhouses: As cultivation becomes more sophisticated and competition increases, having the best growing environment possible is going to become crucial. Hybrid buildings combine the best of greenhouse growing with the best of indoor cultivation, creating a sealed environment that utilizes the sun for lighting. Of course not all markets support this type of growing, but the ones that do should certainly look hard at adopting it.
Seed to Sale tracking and Cultivation Management Software: Marijuana is a unique produt, partly because the entire plant must be accounted for even as it is altered, often several times by several different groups, before it is turned into a final product. Moreover, regulators require grow operations to keep track of all their plants as they move through different stages and businesses often need to have a record of all non-cannabis inventory in their operation. This can be daunting but comprehensive software solutions like

Flourish can help cultivators not only stay compliant but also offer valuable insights into their operations so they can easily manage and improve their processes. Check out our blog on 'Why Cultivators today need more than just a seed-to-sale tracking software.'
Data Analytics:

Data analytics tools can provide operations with valuable insights and knowledge specific to their businesses. Analytics has proven to be very beneficial to cultivation operations because the process consists of multiple stages with a lot of variables. For example, you can use analytics to compare batch performance at each stage over time and see which stage in the process you need to improve the most and what's factors are resulting in lower performance. However, for better data analysis, you need data and the more data points the better. For instance, you can connect IoT enabled devices like temperature and humidity sensors and find out optimal conditions for a particular strain's perfomance.
LEDs: A national study released by the U.S. Department of Energy in 2015 reports that 1 percent of the U.S. electric grid is now dedicated to growing cannabis, equivalent to the energy output of 1.7 million American homes. IoT based LEDs are the answer to this problem.

The unprecedented level of control over electricity usage and monitoring that these LED lights give cultivators is a giant leap forward for cannabis tech. Rapid return on investment, cutting down on wasteful energy bills and increased control over cannabinoid levels could very well be a game changer for cultivators.
Deciding which technology to invest in can be overwhelming with new tools coming to market everyday. The best way is to observe your business processes, crunch some numbers, and see where the biggest problems and opportunities lie in your business. To make things easier for you, we created a checklist containing techologies that you can use to equip yours grow-house for the cannabis industry boom.